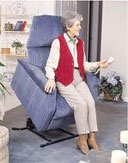 Uplift Chairs

Lifting chairs can help if you or a loved one has difficulty getting up from a seated position, but can walk independently once standing, with or without a walking aid.

Braces
Knee braces are supports that you wear for a painful or injured knee. Some people use them to prevent knee injuries during sports. Braces are made from combinations of metal, foam, plastic, elastic material and straps. They come in many sizes, colors and designs.

Walkers


If you have trouble walking, We have the adult walkers, rollators, canes, crutches and walker accessories you need to help yourself become more mobile. Whether you're looking for something to help your endurance or a little extra additional stability, we carry a full line of mobility product.